Bernburg Castle
Kulturstiftung Sachsen-Anhalt
Schloss Bernburg
Leitzkau · Am Schloss 4
39279 Gommern
T: +49 39241 934-0
F: +49 39241 934-34
Note:
The museum at Bernburg Castle is currently closed. The museum will be reopening in 2022 following extensive construction work and a new design for the permanent exhibition. Temporary exhibitions will continue to be presented in the Eulenspiegelturm.
More information can be found here:
Getting here: Route planner
The castle is not fully accessible. Entry to the museum is not fully accessible.
Colourful history above the Saale Valley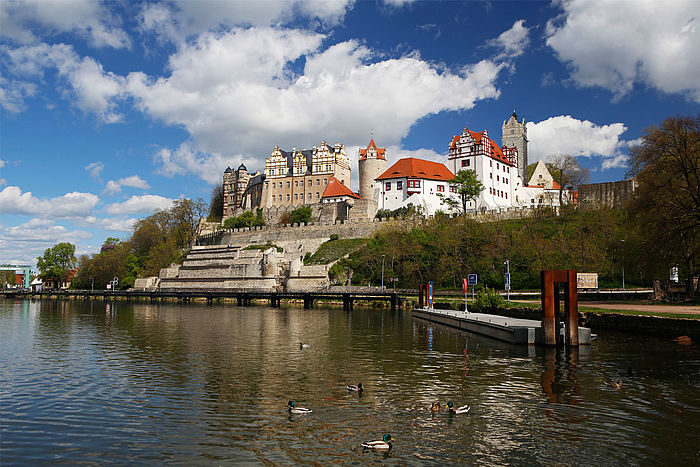 Looking back on the whole history of Bernburg Castle, it is clear that visitors can expect anything – except boredom. The origins of "Anhalt's crowning glory" date back, after all, to the 10th century, and the castle has gone through some truly colourful times since then. In a position that is not just strategically favourable but picturesque, it perches on a sandstone outcrop over the eastern banks of the Saale – and from the start its appearance has literally changed with every new owner to have lived there! Extensions and conversions were the order of the day as the frequent changes of use called for restructuring.
From its first recorded mention as the "Berneburch" in 1138 to today's Renaissance castle, it was thus a long, meandering journey. One preference which all the princes and dukes living here shared, however, was clearly towers. The most famous of these is the striking 30-metre-high "Eulenspiegelturm", where the mediaeval literary character Till Eulenspiegel is said to have kept watch. Two other corner towers, the "Leuchten" ("beacons"), bear numerous elaborate decorations and reliefs depicting past rulers.
When visiting this magnificent castle, which has been fully preserved as it was after its last bout of construction work, bring plenty of time with you, as there is lots to see – from the castle museum to the torture exhibition, from the minerals collection to the cabaret archive, from the art exhibition hall to the bear-pit. Not to mention the fantastic panoramic view of the Saale Valley from the castle terrace – all the way to the Brocken on a fine day!