Neuenburg Castle
Schloss 1
06632 Freyburg (Unstrut)
T: +49 34464 355-30
F: +49 34464 355-55
Getting here: Route planner
Please use the visitor car park at "Berghotel zum Edelacker", which is also suitable for coaches. From there, it is just a five-minute walk to Neuenburg Castle. The castle is not fully accessible.
Monday and Tuesday
closed
Wednesday to Sunday (and public holidays)
open:
10 am–1.30 pm
2.30 pm–6 pm
Two time-slots are available for your visit. The museum will be closed daily between 1.30 and 2.30 pm for thorough hygiene measures.
The children's bower and the tower "Dicker Wilhelm" are currently closed.
Please purchase your online ticket in advance via our ticket shop.
Please understand that due to the Corona-related restrictions, we are currently unable to offer guided tours of the castle. It is also not possible to borrow audio guides at the moment.
However, you can access further information in German, English and French on site with your smartphone via our free ROMANIK WLAN. You can obtain a brief guide at the museum ticket office.
A glorious centre of knightly culture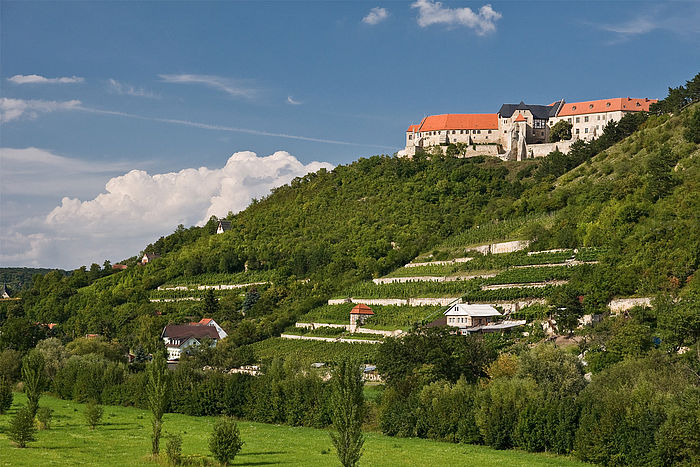 The mighty Neuenburg Castle rises high above the little winegrowing town of Freyburg. Commissioned by Louis the Springer, its construction bolstered the Ludovingians' claim to power in the eastern part of their domain. And other famous names appear in the history of this castle, which is visible from afar: from 1224-25, for example, Saint Elizabeth of Thuringia lived here, to whom the splendidly ornamented double chapel was dedicated: a real Romanesque gem. Prior to that, Emperor Barbarossa visited his brother-in-law at the "New Castle", and this is where Heinrich von Veldeke wrote parts of his world-famous Middle High German "Eneas Romance".
The well-preserved residential tower takes you straight back to the world of the private affairs that went on alongside courtly life. Unique everyday objects from those glorious days, such as toys or clothing, tell their very own tales. In other parts of the castle, further historical relics await you, such as the incredibly technologically advanced latrines.
In the castle museum, permanent exhibitions focus on the colourful history behind these walls; on Thuringian nobility, the region's winegrowing and the fascinating topic of the pocketwatch. Other pieces are presented in temporary special exhibitions. And there are hands-on activities for little visitors: in the playfully run "Children's Chambers", children can be the lord or lady of the castle for a day.