Goseck Castle
Robert Weinkauf
Stellvertretender Vorsitzender
Schloss Goseck e. V.
06667 Goseck
T: +49 3443 34825-80
F: +49 3443 34825-89
Getting here: Route planner
Parking spaces are provided for cars and coaches. The castle is not fully accessible.
First a castle, then a monastery, then a castle again ... and music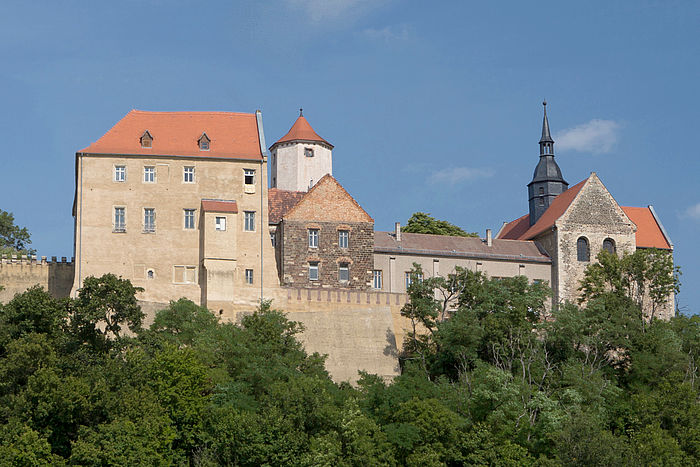 In 1997, when Schloss Goseck came into the possession of the cultural foundation, it had spent the previous decades variously as a granary, housing for resettlers or a youth hostel, among other things, before standing empty for a long time. As a result, its glorious past, which once even inspired the poet Novalis, had almost faded from memory. With no good reason!
The first recorded mention of this majestic castle, visible from afar on its hillside, was long ago in 890. One hundred years later, Benedictine monks moved in and Count Palatine Dedo ordered the building of a truly monumental monastery church on the model of the imperial Speyer Cathedral. That era ended in the 16th century, and various Saxon statesmen rebuilt the complex as a Renaissance castle.
Today, the crypt of the monastery church has regained its mediaeval glory thanks to the cultural foundation, which, in 2007, returned it to the state of its original construction. You can learn more about this and other aspects of the castle's past and local history in an attractive multimedia exhibition. Music lovers from all over Germany appreciate the top-class "Schloss- and Schenkenkonzert" concerts, which primarily feature early music and jazz. And, while you're there, once you've taken a break in the shade of the ancient ginkgo tree in the courtyard, why not stop off at the Goseck solar observatory?