Halle an der Saale Cathedral
Halle an der Saale Cathedral
Reformierter Kirchenkreis der Evangelischen Kirche Mitteldeutschland
Kleine Klausstr. 6
06108 Halle (Saale)
T: +49 345 20213-79
F: +49 345 20213-29
The cathedral grounds are not fully accessible.
Quiet splendour with a mighty past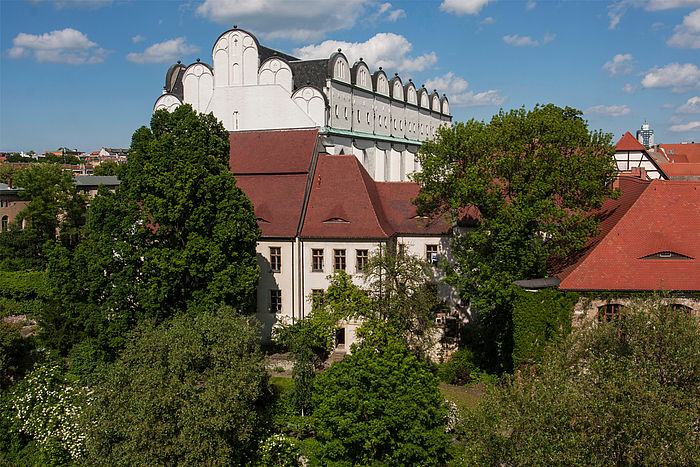 Visitors are often amazed when they stand in front of Halle Cathedral: it blends all kinds of stylistic elements from the Gothic and Renaissance eras to form an unusually simple whole. But this building has no need for lofty towers to convey an impression of venerable piety.
The Dominicans built the church of "St. Peter and the Holy Cross" c. 1280 in the sober style typical of their mendicant order. It was only in the 16th century, under Cardinal Albert of Brandenburg, who brought with him a collection of relics famous as the "Hallesches Heiltum" (the sacred objects of Halle), that the church rose to become one of the most important in the Magdeburg archdiocese. To do justice to its new status, the interior was splendidly decorated. During the Reformation, the cardinal was forced to leave Halle. He took his treasures with him, and the cathedral lost some of its glory. In the 17th century, it was used once again as a court church, this time by Augustus, Duke of Saxe-Weissenfels, the last administrator of the Archbishopric of Magdeburg; since then, the cathedral has been a Protestant parish church. In the years 1702/03, the young George Frideric Handel worked there as an organist. "for a trial period of one year"
It should be mentioned that the remarkable acoustics of the three-naved church still make Halle Cathedral a coveted venue for concerts and stage productions. Even when no music is playing, a visit is well worth your while, to see the cycle of 17 statues on the columns, the faithfully restored choir stalls and the richly decorated pulpit.