Konradsburg Castle
Förderkreis Konradsburg e. V. Ermsleben
Konradsburg 2 · Ermsleben
06463 Falkenstein (Harz)
T: +49 34743 925-64
F: +49 34743 925-63
A Romanesque gem in the Harz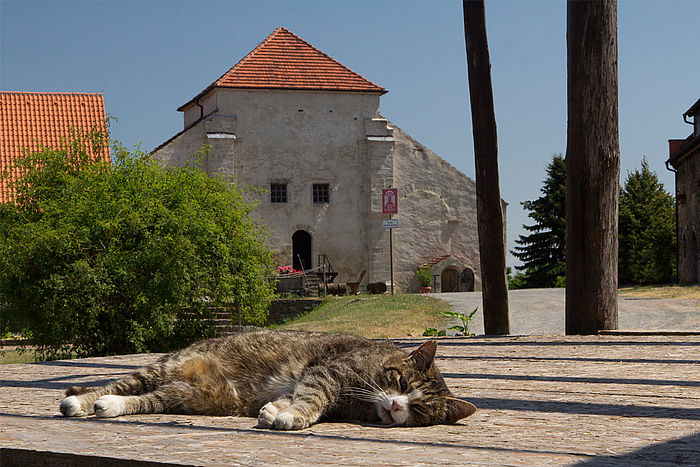 Konradsburg Castle can be found near Ermsleben, high on a hill which slopes down on three sides. Excavations have shown that people already settled here in the Neolithic age. Konradsburg Castle is not quite as old, but still goes back almost 1,000 years. As far back as the 12th century, the knights who gave the fortress its name left the stronghold to concentrate on building Falkenstein Castle. The castle was converted into a Benedictine monastery – according to legend, to atone for a murder committed by a member of the Konradsburg line. It is due to this development that although the idyllic Konradsburg Castle still shows clear signs of its mediaeval roots, its martial origins are not visible.
The castle was used for many years thereafter as an agricultural estate with various conversions and extensions. Among other things, the beautifully preserved two-storey well house dates from that time. Its donkey-powered treadwheel stayed in operation until 1948. All that can now be seen of what was once an imposing three-naved monastery basilica is the raised choir area and the crypt below with its beautifully decorated columns. And don't miss the large, precious cross on the west wall of the church!
At the weekend, the cosy gallery café is open, where visitors can enjoy refreshments after their tour.