Cathedral of St Mary Havelberg
Evangelische St.-Marien-St.-Laurentius-Gemeinde Havelberg
Propsteiplatz 1
39539 Havelberg
T: +49 39387 791-04
Musée de Prignitz à la cathédrale de Havelberg
Prignitz-Museum am Dom Havelberg
Domplatz 3
39539 Havelberg
T: +49 39387 21-422
F: +49 39387 88-778
Getting here: Route planner
Parking spaces are provided for cars and coaches. The cathedral grounds and the cathedral are not fully accessible.
A very special kind of Romanesque ensemble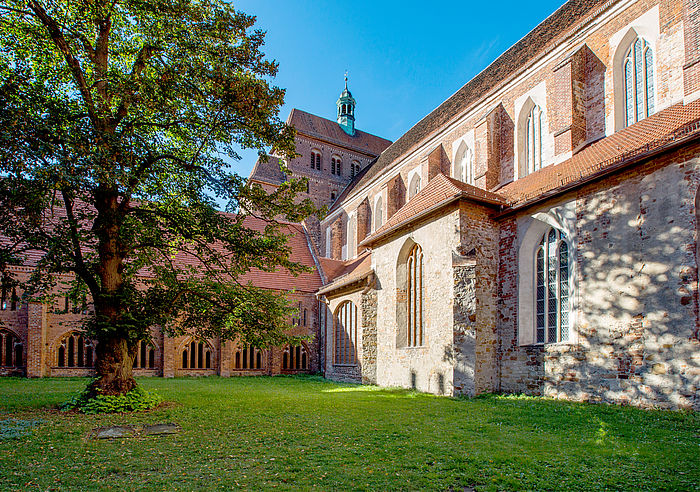 Havelberg Cathedral is one of the few fully preserved Romanesque / early Gothic structures east of the Elbe. Just a stone's throw from the banks of the Havel, the cathedral, consecrated in 1170, served as the episcopal see, while Premonstratensians had already moved into the accompanying St. Mary's collegiate church. Though large parts of the buildings were devastated in a fire some 100 years later, its underlying Romanesque character survives in the Gothic reconstructions and additions. Since the Reformation, the cathedral has been Protestant; the abbey was dissolved in 1819. The old cloister rooms now contain the Prignitz Museum, with exhibits on the history of Havelberg, its historical settlement and its cathedral.
Inside the basilica, visitors will find significant works of art from several eras, including a richly decorated rood screen with a sandstone parclose and an impressive rood with attendant figures, stained glass windows from the early 15th century, carved choir stalls, and detailed sandstone reliefs and figural candlesticks from the 14th century, a monumental baroque altar and a Renaissance baptismal font.
The most striking feature of Havelberg Cathedral is doubtless its mighty westwork. Without a single door or window in its bottom section, it rises up more than 30 metres. Known in architectural circles as the "Sächsischer Westriegel", the Saxon westwork, its strongly fortified appearance suggests that it symbolises a bastion against evil.