Kunstmuseum Moritzburg | Halle (Saale)
Visitor address and postal address
Kunstmuseum Moritzburg Halle (Saale)
Friedemann-Bach-Platz 5
06108 Halle (Saale)
T: +49 345 21259-0
F: +49 345 20299-90
Visitor Services
T: +49 345 21259-40
Mon–Fri 10 am–4 pm
Visitor address
Kunstmuseum Moritzburg Halle (Saale)
Friedemann-Bach-Platz 5
06108 Halle (Saale)
Barrier-free access
Our museum is fully accessible. For people with physical disabilities, the lift and stairlift provide step-free access to all exhibitions and the cloakroom and toilet areas. A wheelchair is available at the museum ticket desk.
Parking
Friedemann-Bach-Platz parking
73 parking spaces directly in front of the museum
Coaches
Friedemann-Bach-Platz parking
Two coach parking spaces directly in front of the museum
Coach parking map Halle (Saale)
Local and long-distance transport
You can get here on local and long-distance trains via Halle central station. The town of Halle an der Saale has excellent links to the new ICE express train line between Berlin and Munich, and the Central German rapid-transit S-Bahn service. From the central station, tram 7 (Kröllwitz) takes you straight to the Moritzburgring tram stop. From there, it is just a couple of steps to the entrance of the art museum.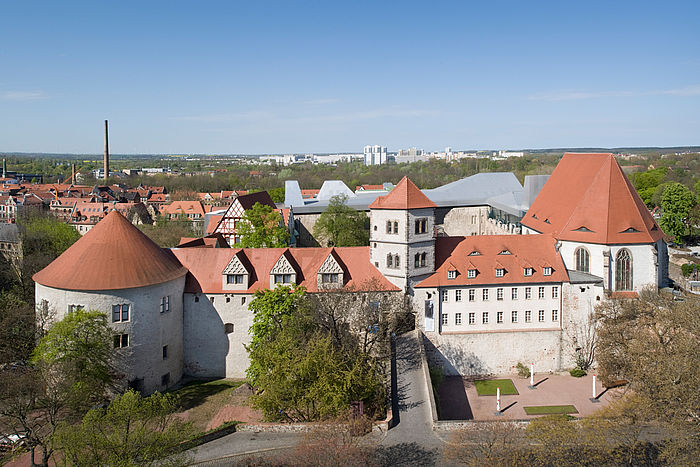 History and the modern age blend seamlessly into one another in Saxony-Anhalt's art museum thanks to an award-winning architectural tactic. The ruins of the late Gothic building were left in their original state, with exhibition galleries – known as "white cubes" – literally "hung" inside them, the entire construction topped off by a lightweight, angular roof. And it is precisely this fascinating dialogue between the old and the new that you will encounter again and again during your visit – and down to the tiniest structural detail.
It is not without reason that the Moritzburg Art Museum, Halle an der Saale has become one of the most important German museums of classical modernism. Alongside exhibits dating from antiquity to the present, the focus is on the permanent display "Paths of Modernism", which presents graphics, handicrafts, painting, photography, design and coins from the 20th century. Sensational special exhibitions regularly attract art lovers from all over the world to Halle.
Moritzburg Castle itself, however, also has a lot of stories to tell: originally built c. 1480 as an archbishop's residence, it was heavily damaged by fire during the Thirty Years' War, only partly restored after 1900 and given its magnificent new building in 2008. Its original military use is still reflected in features such as the ramparts, moat and various battlements.