Magdeburg Cathedral and cathedral museum
Magdeburg Cathedral
Evangelische Domgemeinde Magdeburg
Am Dom 1
39104 Magdeburg
T: +49391 54104-36
F: +49391 53 425-07
Ottonianum: Magdeburg Cathedral museum
Domplatz 15
39104 Magdeburg
T: +49391 990174-21
Getting here: Route planner
Parking spaces are provided for cars and coaches. The cathedral grounds are not fully accessible.
The Magdeburg Cathedral Ottonianum museum is step-free. All exhibition rooms are wheelchair-accessible. There is a fully accessible WC and changing facilities.
Mighty Gothic groundbreaker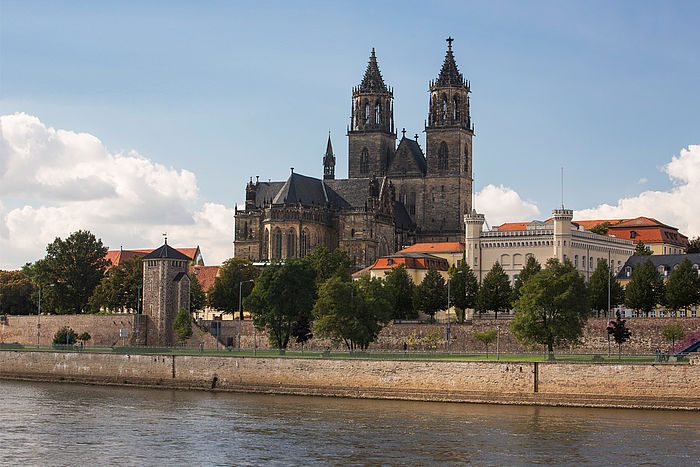 The Cathedral of Saints Maurice and Catherine, view from the east. The striking Cathedral of Saints Maurice and Catherine is the most famous symbol of Magdeburg. From whichever direction you approach the city, the first thing you see is its almost 100-metre-high towers and powerful body. Inside, there are countless details to discover, each with its own story.
The cathedral owes its existence to an endowment by King Otto the Great in 937. In 1207, the Romanesque building was destroyed in a devastating fire in the city. Archbishop Albert had the cathedral built in its present form on the same spot – using many of the columns which had not been destroyed, and in the style of the newly emerging French Gothic architecture. He was thus the architectural pioneer of the era in Germany.
Over the full 300 years of its construction, many other pieces were added of global artistic renown, such as Saint Maurice or the ten sculptures of the "Wise and Foolish Virgins". And in the north tower, the huge bells – the heaviest of which weighs 9 tonnes – leave visitors feeling tiny by comparison. The arduous climb is rewarded with an incredible view.