St. Pancras collegiate church, Hamersleben
Klosterhof 8
39393 Hamersleben
T: +49 39401-483
Catholic parish of St. Mary
Hornhäuser Str. 30
39387 Oschersleben
T: +49 3949 5132-35
Getting here: Route planner
Parking spaces are provided for cars. The abbey grounds and the abbey are not fully accessible.
Hamersleben Abbey and St. Pancras collegiate church: a gem of unspoilt Romanesque architecture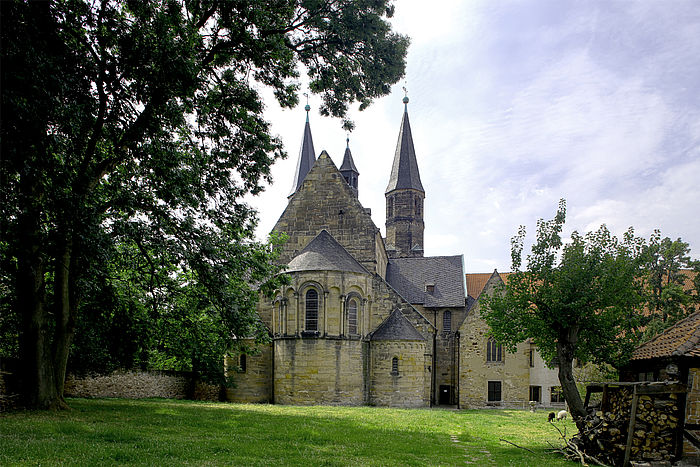 Jointly exuding religious composure, the abbey and its collegiate church stand on the outskirts of the village of Hamersleben. Amidst extensive gardens where sheep still graze peacefully to this day, the St. Pancras collegiate church stands out as the real treasure among this group of buildings.
It was built in the Romanesque style at the beginning of the 12th century by the Canons Regular of Saint Augustine. In the years that followed, the rich ornamentation typical of that period had to compete with late Gothic and baroque additions. To the good fortune of future generations, the secularisation of the abbey in 1804 triggered a process of careful restoration that left the church largely restored to its Romanesque origins. The fantastical sculptures depicting mythical creatures, plants and scenes of combat between people and animals should not be missed.
Drink in the very special overall impression, and don't forget to take a walk through the beautiful adjacent park!
Due to extensive construction work on the roof of the nave, the collegiate church is unfortunately not accessible to visitors until further notice.