Köthen Castle
Kulturstiftung Sachsen-Anhalt
Schloss Köthen
Leitzkau · Am Schloss 4
39279 Gommern
T: +49 39241 934-0
F: +49 39241 934-34
Getting here: Route planner
Parking spaces are provided for cars. The castle is not fully accessible.
Where Johann Sebastian Bach once worked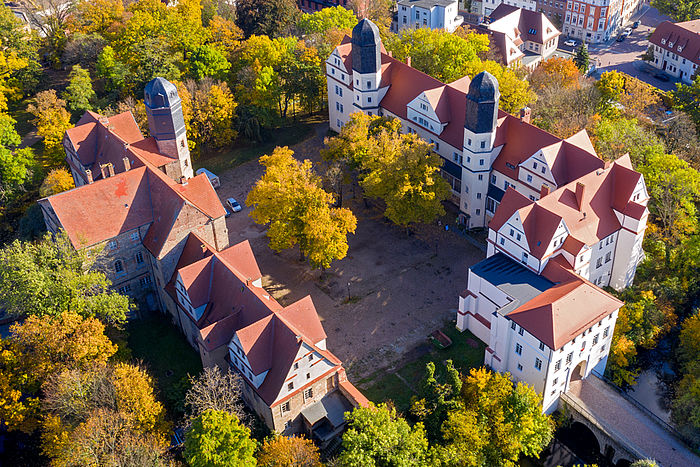 From 1717 to 1723, Köthen Castle was the "workplace" of Johann Sebastian Bach. He led the court orchestra here, and this is where some of his most important musical masterpieces were written. With a history like that to look back upon, it was only logical for this venerable spot to be the venue for the Köthen Bach Festival.
The beautiful castle in the heart of the town was, however, built as far back as the 13th century. Over the years, it was used almost continuously as a home by various noble families. Those were eventful times, during which the castle buildings underwent frequent transformations and extensions. Though the final rulers to occupy the castle, especially, carried out many baroque alterations, the basic Renaissance structure is still clearly visible in many places.
Today, Köthen Castle holds the city archives, a Bach memorial centre, a music school and a museum of prehistory. One special highlight is the ornithological collection put together by the discipline's founder, Johann Friedrich Neumann. At the time, he was the first person to present birds in their natural environment – in an attractive Biedermeier style which remains unchanged to this day. The Fürst-Ludwig-Haus, which once housed Prince Louis of Anhalt-Köthen's literary "Fruitbearing Society", today still strives to maintain the German language. Various function rooms can be hired for concerts and celebrations, including the royal stables, the castle chapel or the splendid restored "Hall of Mirrors".