Halberstadt Cathedral & cathedral treasures
Cathedral and cathedral treasures
Domschatz Halberstadt
Domplatz 16a
38820 Halberstadt
T: +49 3941 24237
F: +49 3941 621293
Getting here: Route planner
Parking spaces are provided for cars and coaches. The cathedral grounds are not fully accessible.
Masterpieces of inestimable value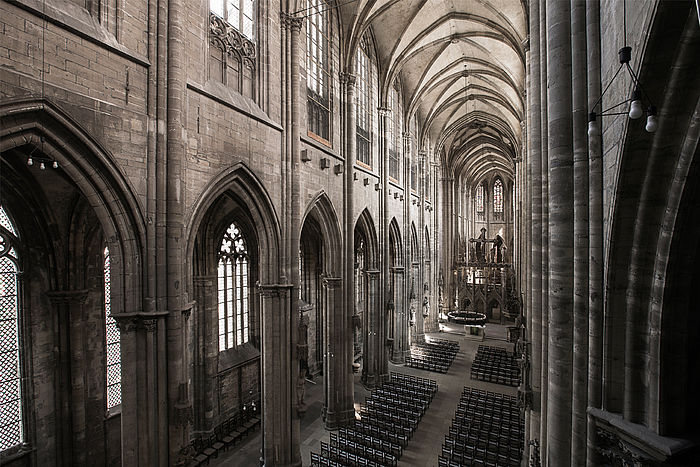 Crossing the threshold of the cathedral of St. Stephen and St. Sixtus, you step straight into the world of the 13th to 15th centuries. It is one of the most beautiful Gothic cathedrals in Germany. Over a construction period of more than 200 years, the monumental church was built strictly in the French style: tall, wide, magnificent and dignified. The nave alone soars 27 metres above visitors' heads! When the sun then shines through the windows with their 290 stained-glass decorations, it is easy to imagine the awe that must have been inspired among people attending church services in the late Middle Ages.
Take enough time to appreciate the unique features such as the marble baptismal font in the vestibule, the life-size sculptures on the pillars and the impressive Halberstadt Rood with attendant angels.
Most captivating, however, is Halberstadt Cathedral's collection of treasures in the cloister buildings – probably Germany's most precious set of church treasures, with more than 650 items. Alongside ceremonial liturgical vestments, delicate gold and ivory works and the oldest woven tapestry in Europe, it also contains elaborately worked sculptures and altarpieces, and original manuscripts. Some pieces date back to Byzantine and Ottonian times. In other words, this monument on the edge of the Old Town is well worth a visit.